Objective 6   Maintain safety, security and tranquility in the area, contributing to a continued low level of burglary and street crime
6.1.1   Many responses to the StQW Survey demonstrated the importance that residents attach the comparative quietness and tranquillity of most streets in the area.  Most residents feel safe and secure to walk the streets of the area in the hours of darkness, although the southern end of Latimer Road and that part of Freston Road between Latimer Road Underground Station and Oxford Gardens have been identified as feeling threatening.  The pedestrian/cycle route across Westway Trust  land behind Oxford Gardens is also seen as a route to avoid after darkness.
6.1.2   In the Latimer Road part of the Freston Road/Latimer Road Employment Zone, regular attempts to burgle office buildings have been a longstanding problem.  The 2013 Peter Brett Associates report on Enterprise in the borough, notes that At Freston Road and Latimer Road safety was again raised as an issue, with a number of the properties being 'off the beaten track' with little activity on evenings and weekends. Businesses feel that this encourages criminal activity.  One of the reasons why this Plan proposes more mixed use development in Latimer Road, with residential above commercial, is to have more 'eyes on the street'.
6.1.3   In terms of the Edwardian streets built by the St Quintin family, housing is terraced and also set back from the street with front gardens.  This provides a combination of sufficient privacy from passers-by, with the reassurance that streets and pavements are overlooked by several households at any one location.   Levels of street crime are therefore low.
6.1.4   Backland developments, away from passing cars and pedestrians, have specific security issues which require careful design.  This applies both the housing and non-residential development.  Blake Close has experienced problems of anti-social behaviour and fly-tipping.   This Plan is not proposing any further residential development of backland sites, for this and other reasons.
6.1.5   In terms of street crime and anti-social behaviour in the StQW neighbourhood, a more active police presence has been needed at times to address issues of youths congregating in St Helens Gardens. But such interventions seem to have worked.  The shops in North Pole Road have had to take measures to address problems arising from large groups of young people dispersing at the end of the school day.  North Pole Road has late night shops and takeaways, and can feel threatening in the hours of darkness.  CCTV coverage in this area has been strongly recommended by a number of shopkeepers in the parade, in the StQW survey on local shopping parades.
6.1.6   The neighbourhood has seen a growing trend in recent years for house-owners to introduce new security measures at their own properties.  These include security lighting in porches and front and rear gardens, and higher front garden walls.  A new trend has been the introduction of high front railings or fences, with security doors or gates fitted with entryphone systems, and the letter box moved to the outside wall.  These measures are designed to create a secured front area, which will often be now paved over and in some cases part filled with bin stores and/or bicycle store.
6.1.7   These changes in the way that house-owners choose to use their front garden space are having a visible impact on the appearance of the conservation area, as well as on water run-off into the sewer system.  While the StQW Forum respects the reasons why house-owners wish to make such changes, there are concerns as to the extent to which this trend may become uncontrolled.  It is not clear how many residents are fully aware of RBKC policies and Article 4 Directions on external alterations to the street-facing facades of properties in the Conservation Area.  Where unapproved works are carried out, this places an extra enforcement burden on the council.  This Plan addresses these issues under Objective 2 on Conservation (see above).
What role could CCTV play in the StQW neighbourhood?
6.2.1   RBKC Council operates a network of CCTV cameras in North Kensington, as part of its measures to prevent crime.  The Council's Community Safety Team is a joint partnership with the police, over seen by the Borough's Community Safety Partnership.
6.2.2   At present, all the CCTV crime prevention cameras in North Kensington are located north of Dalgarno Gardens, i.e. just north of the StQW boundary.   Responses to the StQW Survey have identified two further areas where residents, shopkeepers, and businesses consider that monitored CCTV coverage would contribute to crime prevention and a reduction in anti-social behaviour.  These are:
North Pole Road, with its cluster of late night shops and problems of supervision of school pupils at the end of the school day.
The southern end of Latimer Road, with its history of burglaries of office buildings and the location for the eastern entrance/exit to the proposed underpass between Latimer Road and Wood Lane.
6.2.3     Within the new underpass, five CCTV cameras will be provided as part of the S106 Agreement between Imperial College and LBHF.  These cameras will still leave un-monitored the critical area of the southern end of Latimer Road, leading eastwards into Oxford Gardens and northwards up Latimer Road.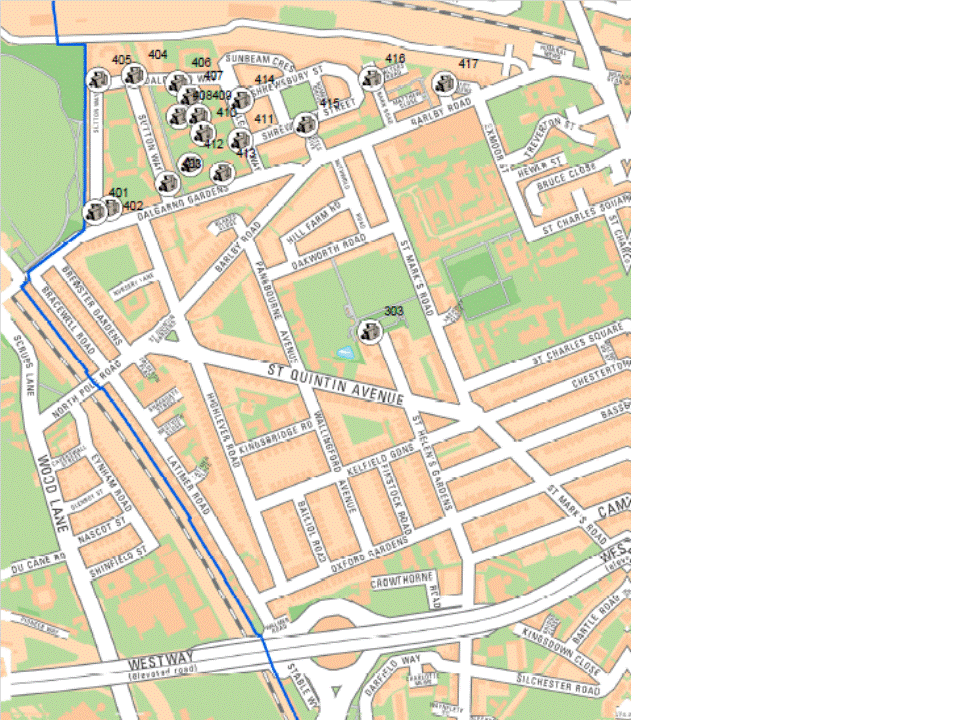 Location of cameras within RBKC crime prevention network in North Kensington
SAFETY AND TRANQUILLITY:  DRAFT POLICY STQW 6
6) (No spatial planning policies proposed.  See below for proposed actions).
ACTIONS
6i)   to work with the RBKC Community Safety Partnership/Safer Neighbourhoods Board in maintaining the current low levels of crime and disorder in the neighbourhood.
6ii) to support the Safer Neighbourhood Policing Teams working in the St Helens and Dalgarno wards
6iii) to comment on planning applications where it is considered improvements can be made in terms of 'Safer by Design'.
6iv) to lobby RBKC to add additional CCTV cameras to the current North Kensington network, in North Pole Road and at the southern end of Latimer Road.
6v) to support residents of Blakes Close in achieving adequate access control for vehicles, improved lighting, management and  maintenance so as to prevent fly-tipping and discourage anti-social behaviour on the private access road and parking areas within this housing development.