A group of residents associations on the borders of Wormwood Scrubs/Old Oak Common have been working together in recent months on proposals to prepare a neighbourhood plan for Old Oak.  The suggested boundary of the neighbourhood area is shown in the map below (the yellow line).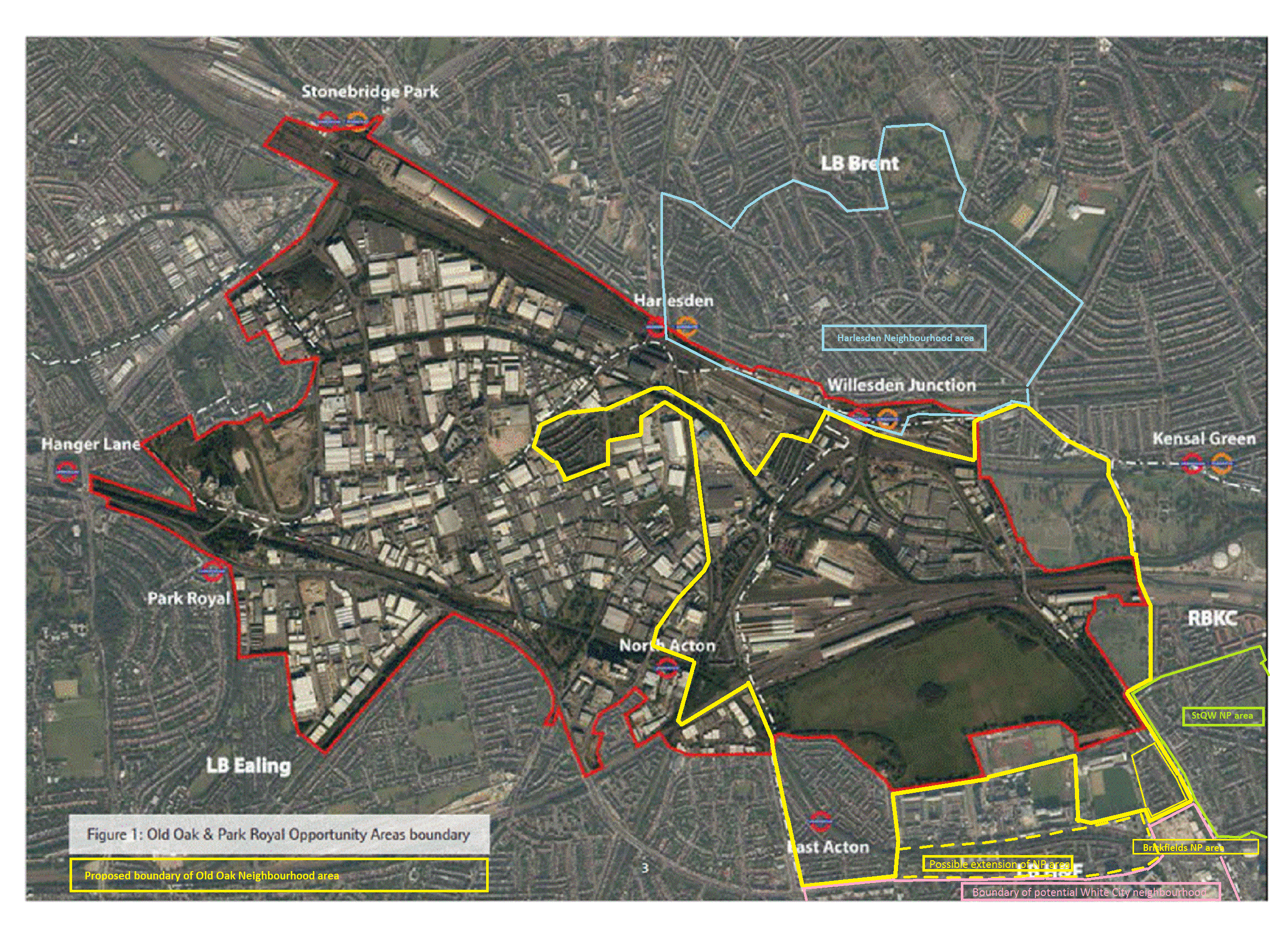 The Old Oak and Park Royal Development Corporation has been the planning authority for this area, since April 2015.  The Corporation has consulted in recent months on the first draft of a Local Plan for the area.
Rather than simply responding to this and other consultations, local residents see a neighbourhood plan as a good way of identifying shared concerns over what is being planned for Old Oak, for feeding in local knowledge, and for influencing the final outcome of the OPDC Local Plan.  The idea would be for preparation of a neighbourhood plan to run alongside the next stages of the OPDC Local Plan.
The draft of a designation  application for a neighbourhood forum and neighbourhood area has been put together.  This will need to be approved by the OPDC Board and by LB Hammersmith & Fulham, for the neighbourhood plan to go ahead.
Old Oak designation application.Draft V9 April 3rd
The application will be submitted shortly after the London Mayoral election on May 5th.  The OPDC and LBHF will then organise a 6 week public consultation, seeking views on the suggested boundary for the neighbourhood area, and on establishing an Old Oak Neighbourhood Forum.
The 'interim forum' put together a collective response to the OPDC consultation on its Draft Local Plan, and this can be seen at the link below and on the website of the Grand Union Alliance.
RESPONSE TO OPDC DRAFT LOCAL PLAN.Final
A second version of the OPDC Local Plan will appear later this year.  Whether its policy proposals on density and building height are any different remains to be seen.  The arrival of a new Mayor of London could bring about change, as could a majority for Brexit and the resultant impact on the London property market.
Email the StQW Forum at info@stqw.org if you would be interested to know more about the proposals for the Forum, or what is happening at Old Oak.