The Council has been consulting recently on the route of a proposed TfL/RBKC 'Quietway' route through the StQW neighbourhood.  'Quietway's form part of the Mayor of London's Cycling Grid.   The intended users are not cycling commuters but those who wish 'to use clear, direct routes along quiet side streets' .  They are different from the cycling superhighways, which are two-way largely segregated routes designed to bring people in and out of central London.
At the StQW/SHRA open meeting on June 9th, RBKC transport officers gave a presentation on the North Kensington section of a proposed new Quietway.  A map of the overall route is shown below.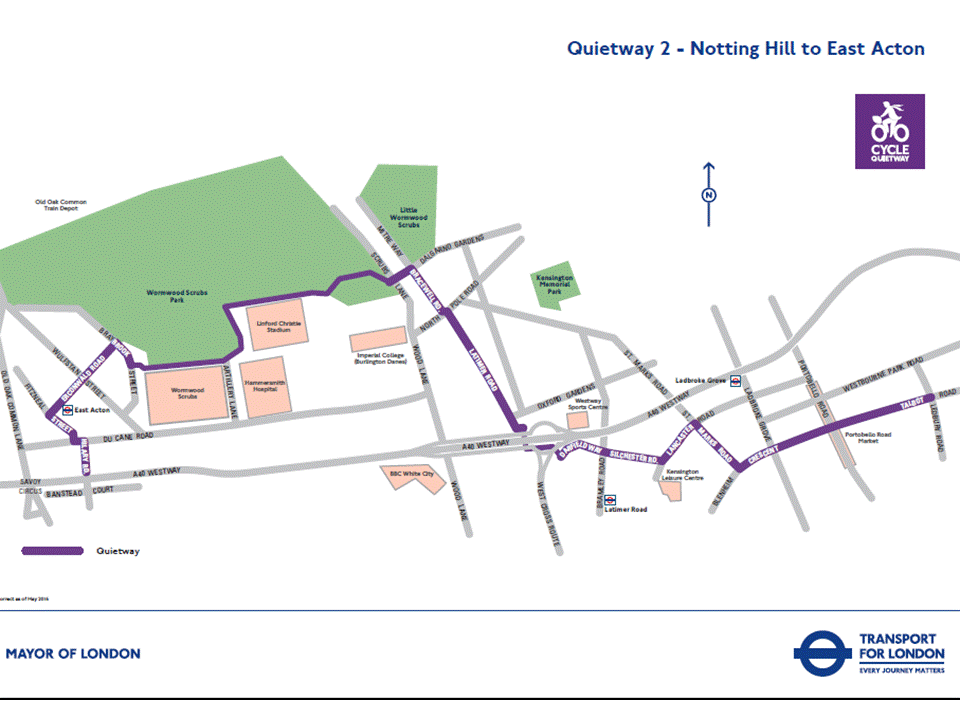 Discussion at the meeting centred on the proposed junction where the Quietway crosses North Pole Road.  Local residents were very doubtful about the viability of the proposed junction layout, using two 'Tiger' crossings which are acknowledged as being experimental.
The major traffic problems in North Pole Road make it unsuitable as part of a Quietway route, in the view of local people.  There is congestion (and resultant poor driving practices) almost every day at mid and late afternoon.  Sightlines for cyclists are poor, because of parked vans and other vehicles.  Parking enforcement is weak.
The StQW Forum has written to the Council asking that two alternative routes are considered, one using Eynhaam Road and one using Highlever Road.  A copy of our letter can be found at this link StQW to RBKC re Cycle Quietway.V3 final [1225250]
The Council has assured us that these options will also be examined, before any decision is made.  The consultation on the RBKC website, with maps of each junction is at https://www.rbkc.gov.uk/parking-transport-and-streets/getting-around/cycling-and-walking/cycling-grid/mitre-lane-ledbury.   It closed on June 25th 2016.