The area for which the Old Oak and Park Royal Development is the local planning authority lies to the north west of the StQW neighbourhood area.  Hence we have taken a close interest in the plans of the OPDC.  This is London's largest regeneration area and the site of the planned HS2 and Queen Elizabeth Line rail interchange.
The OPDC plans to build 25,000 new homes at Old Oak, at very high densities.  This Forum residents believe this target to be too high, and that the outcome risks being a long-term planning failure – hugely damaging to this part of London.
OPDC Local plan 19.2 Key Diagram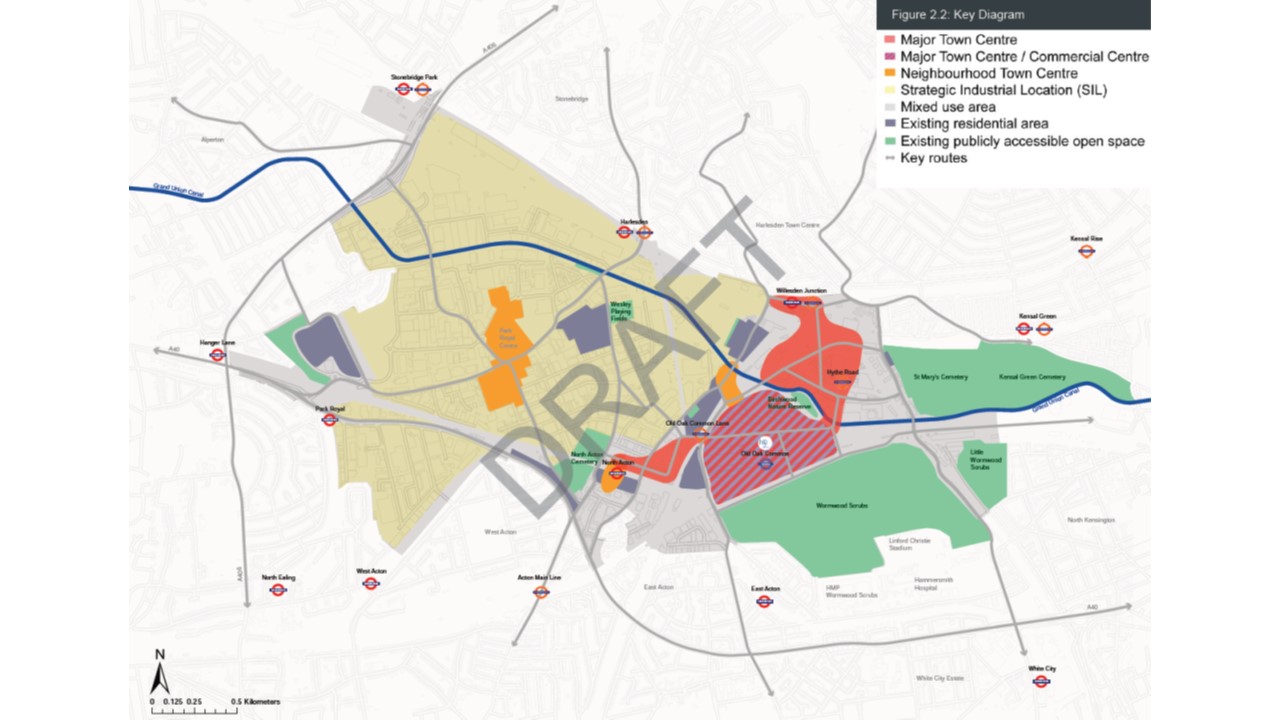 The OPDC has been preparing a Local Plan since the Corporation first took over planning responsibilities for parts of Brent, Ealing, and Hammersmith & Fulham Boroughs back in April 2015.  A 'Regulation 18' and 'Regulation 19' version of the Local Plan have already been consulted on. Major changes were sought during these consultations.  HS2, the Mayor and GLA, and Transport for London pointed out that parts of the Draft Local Plan, relating to sites at and around the planned HS2 station, were not realistic.  Major depots and other infrastructure on these sites cannot be relocated or built over, within the 2018-38 plan period.  The topography of the land also constrains development.
As a result the OPDC is consulting on a third Draft Plan.  The main changes affect the area termed 'Old Oak South' but there have also been significant other changes on the proposed street network and transport routes.
One element that has not changed is the 25,000 housing target, which dates from a set of revisions to the London Plan adopted in 2015.  Very little justification for this target was provided when first added to the London Plan.  Despite this, it has been treated ever since as an unalterable parameter in subsequent Draft Local Plans.
Subsequent modelling of development capacity across the OPDC area has shown that this target can be met only be building homes at extreme high densities.   The latest OPDC Draft Local Plan acknowledges an average density of 450 units/hectare across the various development sites in the plan.  This rises to 650 units per hectare in 'Old Oak North', where most of the land is owned by Cargiant/London & Regional Properties.
As this latest version of the Local plan is beginning to acknowledge, these very high densities  will require 'a new London typology' in terms of built forms (i.e. intensive clusters of very tall towers and 'shoulder blocks'.  A study of the Old Oak proposals by a team from Cambridge and Berkeley University points out that current OPDC proposals are 'more akin to residential densities in Shanghai or Hong Kong than the densest parts of London'.
Quite way this part of London should be planned in this way is not explained, beyond bland statements that 'London needs more housing'.  There are no proposals for radical improvement to the local road network, already highly congested.  Much faith is placed in the 'connectivity' available to new residents (post 2016) from the new station interchange.  Two new Overground stations are also promised as 'potential' additions to the local transport system, but no funds have yet been secured to construct these (at £150-200m apiece).
The OPDC consultation webpage, with links the Draft Plan and extensive Supporting Studies is at this link.   The StQW Forum will be responding to the consultation.  Our previous 2017 response to the Regulation 19 OPDC Local Plan can be seen here StQW response to OPDC Reg 19 Plan.