Back in November 2019, the Old Oak ad Park Royal Development Corporation announced a 'change of direction' and a 'new focus' for its much delayed Local Plan.
An interim report from Planning Inspector Paul Clark had ended the Development Corporation's aspirations for a new town centre and 6,000 new homes, to be built on the 46 acres of land owned by Cargiant at Hythe Road. Cargiant had decided to stay put and expand its business on its existing site. The planning inspector concluded that attempts by OPDC to compulsory purchase the land it needed were financially unviable.
This meant further delays on a Draft Local Plan, then already three years behind schedule. An original timetable of Local Plan adoption in Spring 2017 has now slipped 4.5 years to Autumn 2021 with this date far from certain.
During 2020, the OPDC planners have been working up an alternative strategy and a set of 'modifications' to the existing Draft Local Plan. This involves a shift of focus away from Hythe Road and towards East Acton. OPDC has christened this area the 'Western Lands'. Two large sites at Atlas Road and Channel Gate on Victoria Road/Old Oak Lane are planned as the location for a 'major new town centre' along with 3,000 new homes.
For our StQW neighbourhood, the abandonment of plans for 'Old Oak Park' on the Cargiant land has removed the risks of steadily increased traffic congestion on Scrubs Lane and Wood Lane. But OPDC remain determined to meet their long-term housing target of 24,500 housing units at Old Oak, with nearly 14,000 of these to be delivered in the first ten years of their Local Plan. Hence the hunt has been on to identify extra housing sites that can be brought forward to make up the gap created by the loss of the Cargiant land.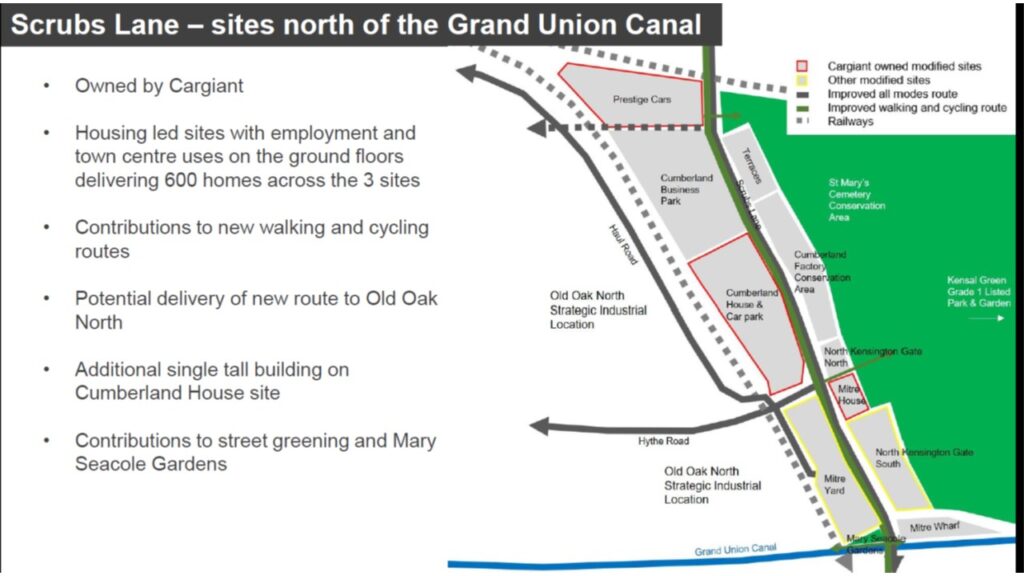 Three sites along Scrubs Lane, owned by Cargiant but separate from their main operations, have been added to OPDC's revised plans. These are shown above and are destined to be developed for a total of 600 housing units. On the site of the existing Cumberland House, an 'additional single tall building' will be allowed under the Local Plan.
In 2017/18 the OPDC Planning Committee granted planning consent to three other tall buildings along Scrubs Lane, at 2 Scrubs Lane, 'Mitre Yard', and 'North Kensington Gate'. The latter two sites have City & Docklands as the developer. These residential towers are all planned to be above 20 storeys. The site at Mitre Yard has been cleared for construction, while City & Docklands are in the process of seeking permission for an extra 40 housing units at North Kensington Gate (South).
As a location very very high density residential towers, Scrubs Lane now makes little or no sense in planning terms. There will be no new town centre next door at Old Oak Park. There will be no new Overground station at Hythe Road, as once promised in the OPDC Local Plan. Access to public transport is very poor, with a 15 minute walk to Willesden Junction. Shops, GP surgeries and other basic amenities are lacking. So there must now be some doubt whether developers will build out these schemes, in a very uncertain London property market.
The StQW Forum continues to submit objections to the latest application at North Kensington Gate South and our latest letter can be found here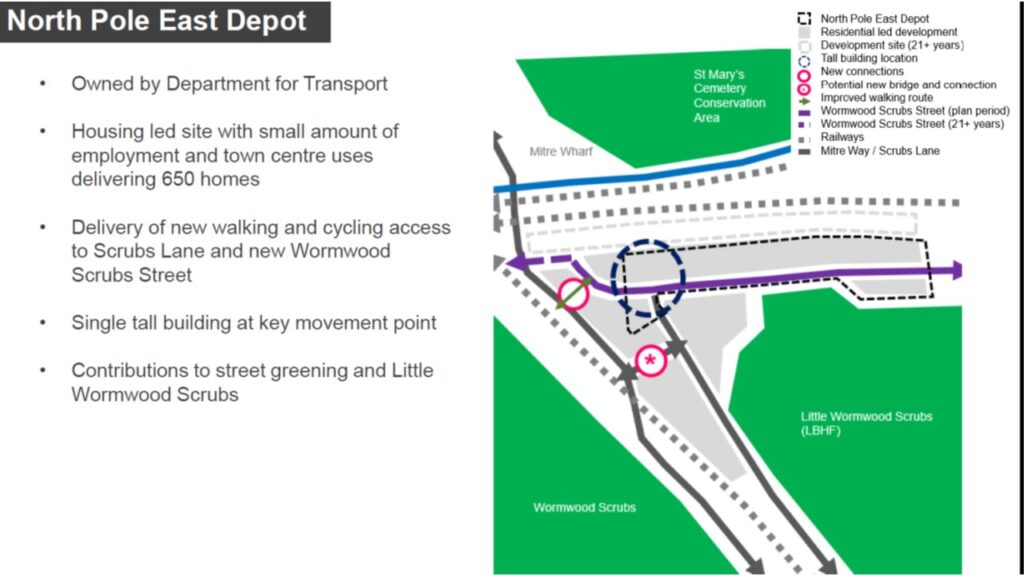 A large site on which OPDC now intends to 'accelerate' development is the eastern part of the North Pole Rail Depot at Mitre Bridge on Scrubs Lane. Railway use of this land dates back to the 19th century and the depot has housed rolling stock from Eurostar and now Great Western Railways (GWR). The land is owned by the Department of Transport.
This site was previously planned to come forward for development in later phases of the Old Oak Local Plan. It is not yet clear exactly when the site will be available for redevelopment, to accommodate a proposed 600 new homes. The diagram above (from November 2019 OPDC consultation sessions) also appears to show the Mitre Industrial Estate as allocated for 'residential-led development' in due course.
Road access to the Depot site is currently limited to a access track running alongside the rail lines from Ladbroke Grove. The above diagram shows a new road link to Scrubs Lane (in a broken purple line) which the key explains will not be in place for '21+ years'. A new tunnel beneath the West London Line would be needed.
A proposed 'Wormwood Scrubs Street' would connect eastwards to the Kensal Canalside Opportunity Area in RBKC. But if this and the existing Mitre Way are to be the only vehicle access routes to the North Pole Depot site, these proposed 600 new homes will remain isolated and distant from the local road network.
New development at this site is likely to impact severely on views from Little Wormwood Scrubs. OPDC are always very coy about housing densities and building heights when proposing site allocations in their Draft Local Plan. But from past experience these densities will prove to be at 500-600 units per hectare (commonly termed a 'super-density' or 'hyper-density'). This is double the level at which RBKC works to, when undertaking estate renewal schemes such as Wornington Phases 1-3 north of Golborne Road.
The OPDC treats its 24,500 housing target as an unalterable fixture, despite the fact that this figure was largely plucked out of the air to be included in the 2016 London Plan. The New London Plan, now finally adopted, retains this figure. But there is growing demand across London for Opportunity Area housing targets to be re-examined.
Secretary of State Robert Jenrick has intervened, in the final stages of preparation of the New London Plan, to require tall buildings to be limited to locations identified in Local Plans and to encourage 'gentle densification' of existing neighbourhoods. The OPDC Draft Local Plan has a way to go before its adoption, including a further set of examination hearings during 2021.
The StQW Forum, the Old Oak Neighbourhood Forum, and other local groups will be making our voices heard at these examination sessions. Londoners are all too well aware that Covid, high rise towers reliant on lifts, and lack access to any private open space, are not a good combination.