This Draft Local Plan form the Old Oak and Park Royal Development Corporation was 'submitted for examination' as long ago as October 2018. After a series of public hearings the following year, Planning Inspector Paul Clark issued 'interim findings' and ruled that the Plan's proposals for locating new housing on the 45 acres of land owned by Cargiant were not viable.
This meant that the OPDC had to look around for new housing sites. It spent 16 months doing so and in March 2021 submitted a set of 'modifications' to its part examined Draft Local Plan.
Usually such modifications are relatively minor tweaks. But in this case, the changes are very substantial. Gone are plans for 'Old Oak Park' and an new Overground station at Hythe Road. New housing sites are being identified in East Acton (labelled by OPDC as the 'Western Lands') and at Scrubs Lane. The part of the plan located in Ealing now has no road connection planned with the part of the plan in North Hammersmith. These are effectively two separate Local Plans.
This is not the joined up and coherent vision for a new Old Oak that was promised back in 2015. The StQW Forum has been working closely with the Old Oak Neighbourhood Forum since 2016 in responding to OPDC proposals. The more we have looked at the details, the less convincing is this 2021 version of a Draft Local Plan. This does not feel like the best solution for regeneration of this part of London.
The timing now makes little sense. Completion of the HS2/GWR/Crossrail station is not now scheduled until sometime between 2029 and 2033. There is a decade of construction work yet to happen. The new station has a cost estimate of £1.7bn, will be 1km in length, and yet will now have no vehicle access at its eastern end. So no means of arriving at or departing from the station on this side of the Scrubs, other than via the canal towpath at Mitre Bridge. Claims that this rail interchange will be a 'catalyst' with a 'transformative' effect for our part of London no longer stack up.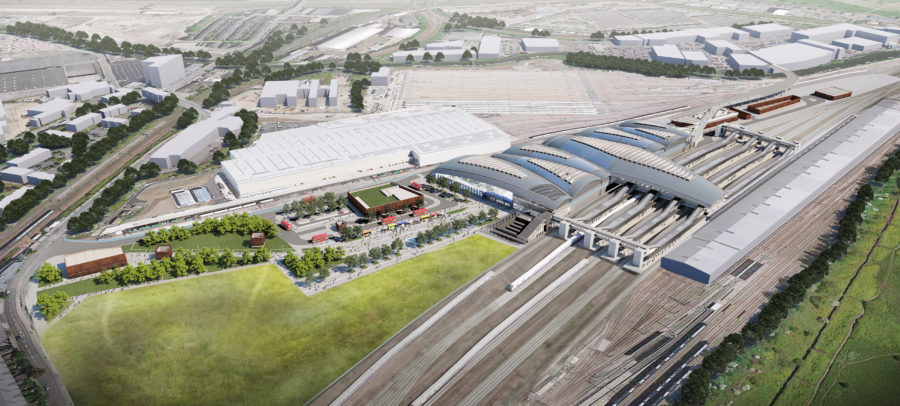 In their search for further housing sites, OPDC planners have added a fifth 'cluster' along Scrubs Lane, at the site known as the North Pole Depot (to the north of the Mitre Bridge Industrial Estate). This is earmarked as a housing site with further tall buildings, although it is not yet clear how road access will be provided.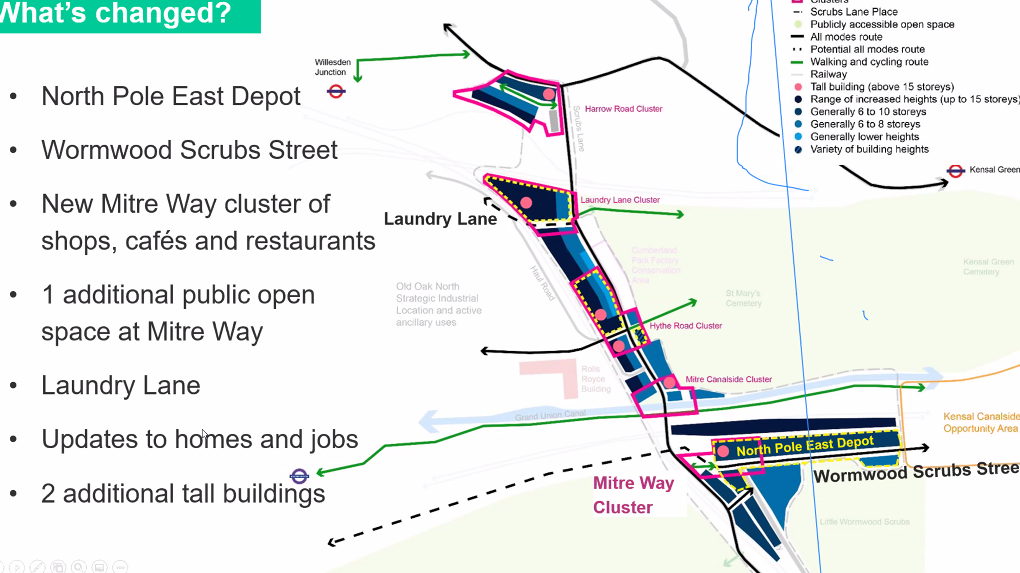 Our Forum has joined forces with the Old Oak Neighbourhood Forum in submitting a set of representations to Planning Inspector Paul Clark, midway through the consultation. This will be followed up with detailed comments on the 'modifications'
We hope local residents will share our view that the OPDC's Post Submission Modified Draft Local Plan does not meet the legal tests of 'soundness' and should not proceed to adoption. There is time for a different and better Plan to be prepared, taking account of all that has changed for the future of London as a result of the pandemic as well as changes in London Plan policy towards further tall buildings in the city.
The OPDC consultation remains live to July 5th. Comments can be sent to OPDC via email at localplan@opdc.london.gov.uk